The 916 Ti-Touch is the stand-alone, compact titrator for routine applications supporting all potentiometric titrations. It features precise and safe handling of chemicals thanks to Dosino technology, shortcuts for your favorite methods, and compliance to CFR 21 part 11.
Methods are started with one button
Integration into LIMS, no PC needed
Precise and safe handling of chemicals thanks to Dosino technology
Automation options available to keep up with higher throughputs
Dedicated packages for specific application areas available
Compliance with FDA Regulation 21 CFR Part 11
Brochure: 916 Ti-Touch, 915 KF Ti-Touch, and 917 Coulometer  (8.916.5003, PDF, 2.3 MB)
Small in size, big in performance
Despite its compact design, the 916 Ti-Touch is capable of performing all routine titrimetric analyses. It covers dynamic equivalence point titrations (DET), monotonic equivalence point titrations (MET), set endpoint titrations (SET), and manual titrations (MAT).
Nevertheless, the titrator excels with ease-of-use. For instance, you can create shortcuts to start your favorite method with one button.
High level of connectivity: secure data and higher throughput
Tamper-proof PDF reports can be created on the instrument and saved on a USB stick or directly transferred to your LIMS or intranet via Ethernet connection – no PC needed!
If you wish to print data or connect a barcode reader, you can do so using the USB interface of the 916 Ti-Touch. Your Ti-Touch system can also be expanded anytime using the Metrohm Serial Bus (MSB) ports. For instance, you can connect a second titration stand to perform a sequential titration of acidity and chloride.
Consistent and precise results throughout all analyses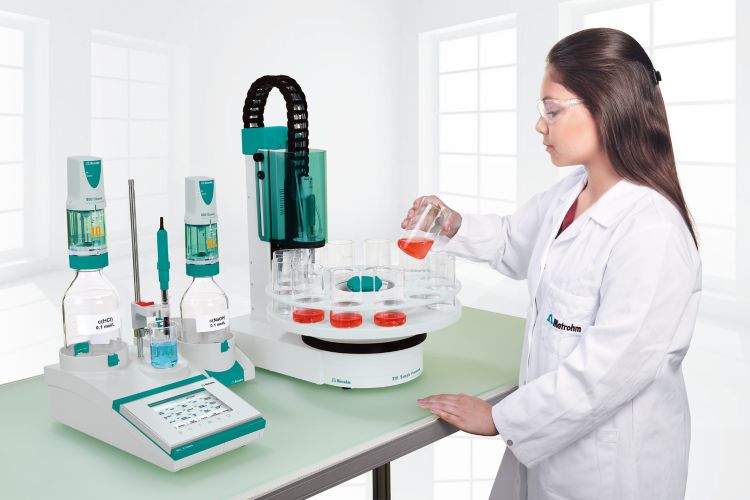 The 916 Ti-Touch can be operated with Dosinos that allow for highly accurate dosing and eliminate contact with the reagent during reagent exchange.
In addition, your Ti-Touch system can be automated using the 810 Sample Processor guaranteeing consistent, reproducible, and precise results.
Which titrator fits your requirements?
Talk to your Metrohm representative and learn about the best solution for your needs!
Automation
Better results with automation
The 916 Ti-Touch can be combined with an 810 Sample Processor to perform up to 24 analyses fully automatically.

Benefit from:
Increased throughput and higher time savings
Improved repeatability and precision of results
Minimized interaction with potentially hazardous substances
Are you still carrying out manual titrations?
Explore Metrohm titrators