Did you know…
Metrohm not only manufactures instruments for laboratory analysis, but we also cater to the industrial process world!
Your analytical challenges are unique, so why shouldn't your solution be as well?
We develop customized solutions for process analysis based on several of our analytical techniques offered for the laboratory. Under the Metrohm Process Analytics brand, we provide analytical systems for titration, near-infrared spectroscopy (NIRS), electrochemistry, photometry, ion chromatography (IC), as well as ion-selective measurements. Our subsidiary, Metrohm Applikon, based in Schiedam, the Netherlands, manufactures these process analyzers for all industrial sectors. With a global team of trained service engineers, you can always count on our experts to solve your challenges and support you—wherever you are.
Who are we? Pioneers!
In 1978, Metrohm Applikon installed the world's first wet chemistry online analyzer at Dow Chemical in the Netherlands. Since then, the Metrohm Process Analytics brand has developed into one of the preferred solution providers of the global process industry for monitoring chemical parameters in large-scale industrial manufacturing processes.
Due to our decades of experience and more than 10,000 process analyzers installed worldwide, we are better prepared than anyone else to meet your requirements with a customized turnkey solution that helps you increase yields and reduce the risks of your process.
Metrohm Process Analytics- Let's push the limits together!
Regulations and safety
Regulations, put in place by local, national, or even international authorities, require timely and accurate data in order to ensure compliance. Otherwise you run the risk of incurring costly fines, polluting the surrounding environment, or worse—a fatal accident.
Whether determining moisture in the production of specialty chemicals, monitoring the efficiency of wastewater treatments, analyzing the amount of precious metals in plating baths, or measuring trace levels of contaminants in drinking water or in plastics used for children's toys, Metrohm Process Analytics is up to the task.
Applications
If you're interested in seeing a variety of the applications published by Metrohm Process Analytics, click below and download our free material!
Online, inline, or atline analysis
Conventionally, most laboratory work is performed in an offline manner. However, in the industrial process environment, these offline samples no longer represent the current process conditions. This means that any necessary process adjustments take place hours or even days after an out-of-specification reading. As we all know, time is money!
On the other hand, since manual samples are taken much less frequently than online, inline, or atline measurements, it can be much more likely to overcompensate with chemical treatments when they may not be necessary. 
So, what are online, inline, and atline measurements exactly?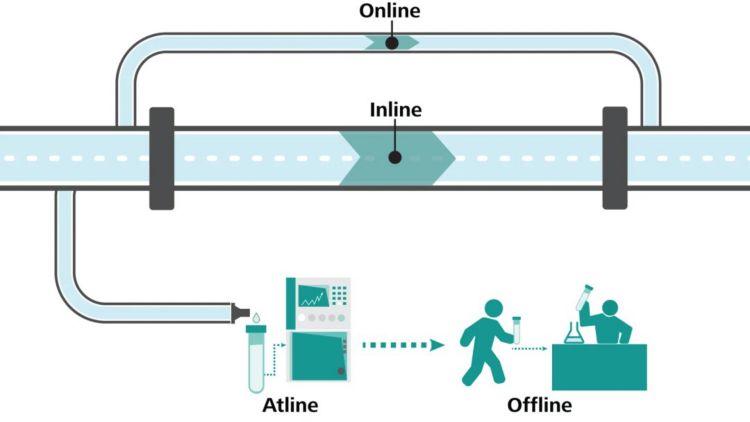 Atline: This type of process analysis is automated and located close to the sampling point. However, continuous manpower is still necessary, as shown in this illustration.
Online: Only limited manpower is needed for this type of analysis, because the sample preconditioning, sampling, and the analysis itself are all performed automatically. With closed loop control, quick measurements lead to fast results and response times for process adjustments.
Inline: For the most representative data about a process stream, inline analysis is the way to go. Very limited manpower is needed here since measurements take place directly in the process stream without sample collection or product waste. Results are immediate, giving the quickest feedback for automatic, continuous process control without delays.
We love a good challenge
Our industrial process analyzers are designed to keep throughput high around the clock with minimal downtime, no matter the task at hand. Whether you only need to monitor a single analyte in a single process stream, or multiple components in several streams – even in hazardous conditions – we have you covered.
Metrohm Process Analytics works with our customers along every step of the way – from the design of the system, to providing a guaranteed application developed by our expert chemists, to factory acceptance testing (FAT). Service contracts are supported by a global team of trained engineers, ready to assist you in your local language.
Unlike the competition, we do not sell you an instrument, but rather an entire package on a silver platter.
Your knowledge take-aways