Increase the efficiency and productivity of your lab with OMNIS Software
OMNIS Software was developed to make your lab experience and work as smooth, easy, and intuitive as it gets. Thanks to the modular design of the software, you can meet your requirements by including optional features such as 3rd party data integration, long-term support, compliance package, or a networkable client/server version.
Efficient, traceable, and reliable analyses:
Meet OMNIS Software
Easy to use: user-friendly interface, context-sensitive UI, and drag-and-drop operation
Regulatory compliance: 21 CFR Part 11; EudraLex, Volume 4, Annex 11
Reducing errors: Self-monitoring, alerts, and system checks
Connecting laboratories: client/server version for central data management and data security
Compatible: Integration of Titrando instruments and modern Ethernet balances
Secure data exchange: Connect any 3rd party software to OMNIS Software (e.g., LIMS, ERP, ELN)
A software for everyone in your lab
All system components are represented graphically on a modern user interface. This makes operation highly intuitive and convenient. Everybody in your lab can perform measurements with OMNIS Software.
To facilitate operation even further, we have implemented drag-and-drop functionality wherever possible. Set up your system and create methods simply by grabbing what you want and putting it where it belongs.
OMNIS Software comes in the languages English, German, and Chinese by default. In addition, the following language packs are available: French, Japanese, Spanish, Korean, and Portuguese. Click here to download the latest version of the language packs.

Reduce errors, maximise efficiency
OMNIS Software comes with a host of functions to reduce errors, such as:
Suggestions and prompts: The software supports you in solving problems by providing concrete and context-specific suggestions.
Visual status indicators: Colors indicate whether your analysis system is free, busy, or reserved, or if there is an issue.

Actionable alerts: The system triggers alarms for certain events so you can stay on top of the process.
System checks: Be sure that the system is ready for measurement before you start.
Laboratory data management for the regulated environment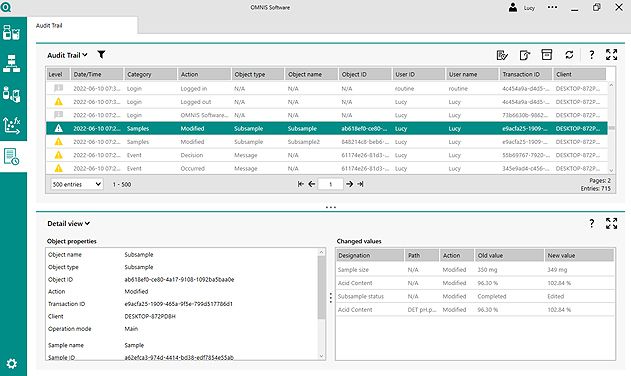 OMNIS Software is available as:
21 CFR Part 11 and EudraLex, Volume 4, Annex 11 compliance version

Long-term support version
Regulatory compliance is simple with features such as a secure database, full traceability, user management, audit trail, signatures, and modification comment. In addition, the long-term support version guarantees a stable and trouble-free operation for 5 years.
Learn more about the compliance or long-term support version in the respective flyers:
Flyer: Peace-of-mind with OMNIS Compliance package (8.000.5417, PDF, 220 KB)
Flyer: OMNIS Software Long-Term Support (LTS) (8.000.5377, PDF, 270 KB)
Are you interested to learn more about the latest advances in data management solutions for the pharmaceutical QC laboratory? Watch this on-demand webinar hosted by pharma manufacturing:
Network functionality with central data management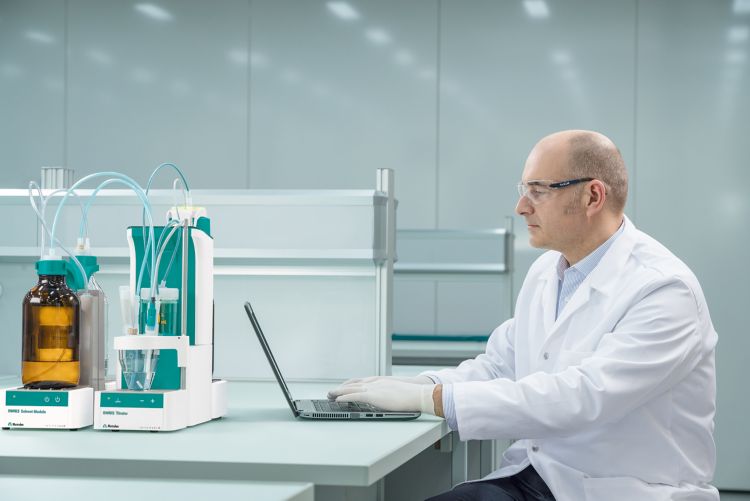 OMNIS Client/Server enables central management of data, instruments, users, and SOPs allowing you to become more efficient while complying with the highest data security standards.
Connect up to 100 clients in a network
Unparalleled user experience thanks to custom configurations at each workspace and more
Continue working for 48 hours without losing any data even when the connection to the server is disrupted
Secure data exchange with 3rd Party Data Integration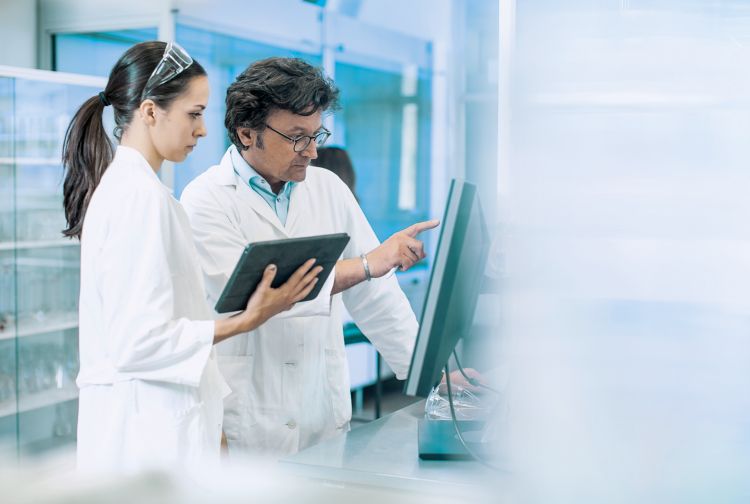 OMNIS 3rd Party Data Integration is a secure interface and enables the exchange of data between OMNIS Software and any kind of 3rd party business management software (e.g., LIMS, ERP, ELN):
Benefit from simple workflows: For instance, create a task in your LIMS, send it with a single mouse click to OMNIS Software, and have the analysis performed. The results are automatically sent back from OMNIS Software into your LIMS where they can be stored and managed centrally for further processing.
Rely on the highest security standards: Communication between OMNIS Software and your LIMS or any other 3rd party software is encrypted and meets the highest standards regarding data security and traceability.
Flyer: OMNIS 3rd Party Data Integration (8.000.5418, PDF, 221 KB)
Do you already own a Titrando?
No problem! Titrando instruments are compatible with OMNIS Software providing for a seamless transition from tiamo to OMNIS. In addition, modern Ethernet balances can also be used within the platform.
Integrate your systems now to benefit from a user-friendly, state-of-the-art software for your laboratory!