MISA from Metrohm Raman is a dedicated instrument for performing SERS (Surface Enhanced Raman Scattering) measurements, which permit detection and identification of analytes at very low concentrations. MISA was developed as a simple, efficient, and green testing solution to address food safety threats. Its high sensitivity, rapid analysis capabilities, and portability complete a package that includes flexible sampling accessories, sophisticated software, and easy to use consumables.
Results in seconds
Easy to use format and step-by-step instructions for sample testing
Flexible choice of software options – MISA Cal M for field-based testing and MISA Cal for laboratory-based analysis
Automated workflows are available that collect the highest quality data and perform library matching
Customizable applications for your area of food safety concern
MISA: Protecting consumers with the latest in food testing technology (8.950.5000, PDF, 345 KB)
Complete trace detection solution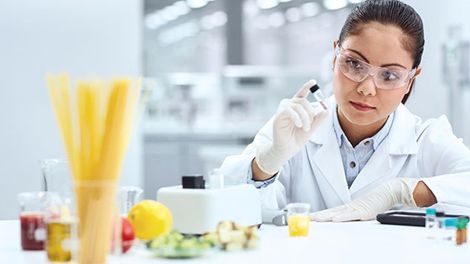 Detection of analytes present as a minority component in a mixture – whether at 10% or 10-7% – can be a complex, expensive, time-consuming, and challenging task. SERS permits detection and identification of analytes in concentrations as low as parts per billion.
Trace analysis with SERS can be fast, convenient, and inexpensive. MISA is a dedicated SERS analyzer that retains all of the appealing features of Raman – portable equipment, multi-analyte detection capabilities, and rapid analysis.
Simple and effective
Anyone can use MISA. A simple guided workflow gives you immediate answers when every minute counts:
Prepare the sample with simple, target-specific methods
Apply the sample to dedicated SERS test materials from Metrohm Raman
Acquire the data with fully automated analyses
Read and share results immediately
Food safety is just the start
Metrohm Raman has an established group of applications, which illustrate the practical application of the MISA platform for the analysis of common pesticides, food additives, artificial dyes and illicit materials found in everyday foods. The Application Notes provide recommendations for selection of material type (gold or silver), for a particular analyte as well as detailed step-by-step procedure for performing a test. MISA, in combination with the ID Kit and the SERS Library of Illicit Materials, can be used in the search for powerful hard-to-detect illicit drugs such as fentanyl. Look for new R&D opportunities with MISA in the near future.
MISA Cal and MISA Cal M
MISA can be operated using a computer, tablet, or mobile phone at the benchtop or at the scene.
Our MISA Cal software provides intuitive interface for easy SERS and Raman operating procedure and library building, as well as results viewing and reprocessing.
The MISA Cal M mobile platform provides wireless operation and results sharing, and can give MISA users immediate information about potentially dangerous substances to support immediate action.
Which Raman spectrometer fits your requirements?
Talk to your Metrohm representative and learn about the best solution for your needs!
Sampling

SERS substrates
Specific Smart Tips for SERS analysis
For sampling flexibility, MISA is equipped with Smart Tip attachments that are designed specifically for Metrohm's SERS consumables.
MISA Vial Smart Tip: accommodates glass vials for use with gold or silver colloids
P-SERS Smart Tip: holds Metrohm P-SERS strips at optimal focal distance
SERS substrates for trace detection
SERS utilizes nanotechnology with Raman spectroscopy to enable trace detection of adsorbed molecules, this requires a SERS substrate. SERS substrates contain nanoparticles that enhance Raman scattering so that trace detection is readily achievable.
High level of SERS enhancement, enabling detection of analytes down to ppb levels
Highly reproducible SERS materials, which ensure consistent performance
Easy to use format with step-by-step instructions for sample testing
Adsorption of target compounds to the substrate offers some potential for sample separation
What is SERS and when is it applied?
Explore Metrohm Raman analyzers