The NanoRam is designed for rapid incoming material inspection at the point of need. Its robust hardware provides high quality data with low noise, leading to consistent and reliable results with fast measurement times. Even samples that have weak Raman signal can be identified with the NanoRam because of this high dynamic range system.
Non-destructive material identification and verification
Intuitive software with easy touchscreen operation
Choice of 785 or 1064-nm laser excitation for optimal identification of raw materials including active pharmaceutical ingredients, excipients, lubricants, solvents, and colorants
Even samples that have high fluorescence signal can be identified with the NanoRam-1064
Robust algorithms for user-definable methods and libraries for reliable material verification
Data sheet: NanoRam (280001222-M, PDF,  1.18 MB)
Data sheet: NanoRam-1064 (280001290-D, PDF, 1.03 MB)
Chart: NanoRam Product Line Chart (400000375-A, PDF, 162 KB)
Straightforward raw material ID
NanoRam can be used by non-technical users to rapidly identify samples in the lab, warehouse, loading dock or field. This allows for a more efficient verification of materials for use in manufacturing without requiring time-consuming trainings.
All advantages of Raman spectroscopy in a handheld system
Raman spectroscopy has high chemical specificity, giving the molecular fingerprint that can uniquely identify your sample without any need for sample preparation. Raman spectra can be measured directly from your sample, or through transparent glass or plastic packaging, maintaining sample integrity and minimizing operator exposure and sample contamination.
NanoRam comes with sampling accessories optimized for different sample types, from solids and liquids, to gels and tablets.
Compliant spectrometer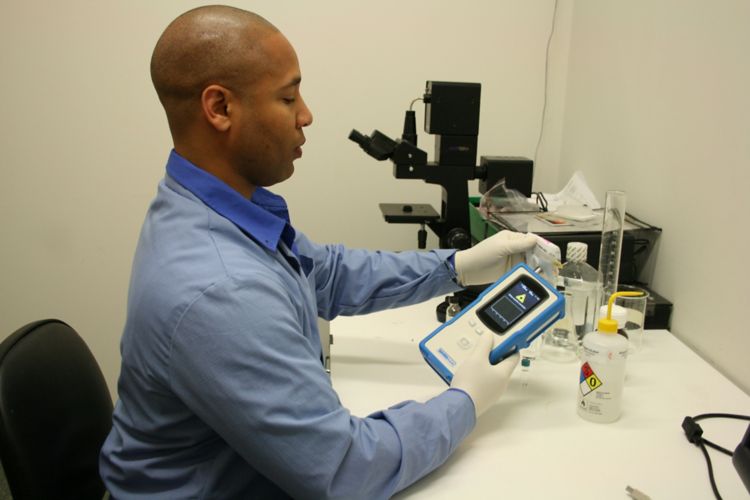 NanoRam, with 21 CFR Part 11-compliant software, plays an integral role in cGMP-compliant facilities. NanoRam includes performance validation tests to ensure system performance to the standards of Raman spectroscopy pharmacopeial methods including the USP <858>, EP 2.2.48 and JP 2.26, and the People's Republic of China Pharmacopeia Guidelines on Raman Spectroscopy.
Specifications for NanoRam
 
NanoRam
Excitation wavelength
785 nm
Laser output power
 up to 300 mW, software adjustable
Spectral range
176 cm-1 - 2900 cm-1
Spectral resolution
~ 9 cm-1 @ 912 nm
Detector type
TE-cooled Linear CCD Array

Display 
High Brightness & High Resolution OLED Touch Screen
Barcode reader
Linear and 2D Standards
Software

NOS (Embedded), NID (PC)
Data formats
.txt, .csv, .spc, .pdf
Data transfer
Ethernet, Wi-Fi
Battery
rechargeable Li-ion, > 5 hrs continuous operation
AC Adapter
Output: DC 12 V, 2 A Minimum
Weight
~2.5 lbs (~1.2 kg)
Dimensions
8.8 in x 3.9 in x 2.0 in (22 cm x 10 cm x 5 cm)
Operating temperature
-20 °C to +45 °C
Storage temperature
-30 °C to +60 °C
Rating
IP64
Standard accessories
Point & Shoot, Vial Holder, Polystyrene Validation Cap, 

Immersion Probe, Large Bottle Adapter
Looking for perfect system fit?
Talk to your Metrohm representative and learn about the best solution for your needs!
Sampling

Software
Fast and safe analysis with sampling accessories
Using Raman spectroscopy, no sample preparation is required, and the instrument does not need any warm-up time. You can start your analysis immediately.
NanoRam comes with optimized sampling accessories to measure a variety of samples in different environments and packaging.
Intuitive software with robust methods
NanoRam is operated with an intuitive software featuring a user-friendly touch screen interface for both technical & non-technical users with clearly displayed results.
Robust multivariate algorithms deliver reliable methods for verifying and identifying incoming materials, and for identifying counterfeit and substandard products.
Explore Metrohm Raman analyzers