Metrohm Process Analytics provides a dedicated advanced software solution for complete process analysis management and diagnostics for the 2060 platform analyzers. The IMPACT software (Intelligent Metrohm Process Analytics Control Technology) has been specifically designed for 24/7 inline, online, and atline analysis of multiple parameters across the plant, from quality control to manufacturing.
IMPACT is integrated into the 2060 platform with different analytical techniques for real-time data analysis, and the acquisition and processing of process data to a plant Distributed Control System (DCS), a Programmable Logic Controller (PLC), or a Supervisory Control And Data Acquisition (SCADA) system. Above all, this all-in-one software is tailored to the application and ways of operating. It is specifically designed to help maximize process efficiency and productivity by eliminating software from multiple vendors.
With IMPACT, titration, ion chromatography, voltammetry, or spectroscopy results are coming from one source and are processed together.
IMPACT software for your 2060 process analyzers:
24/7 inline, online, and atline real-time data analysis
Alarms and health checks
Data integrity, transferability, and traceability
Compatible with tiamo, MagIC Net, viva, OMNIS Software, Vision
Smart programming for predictive tasks and monitoring
Routine operations made easy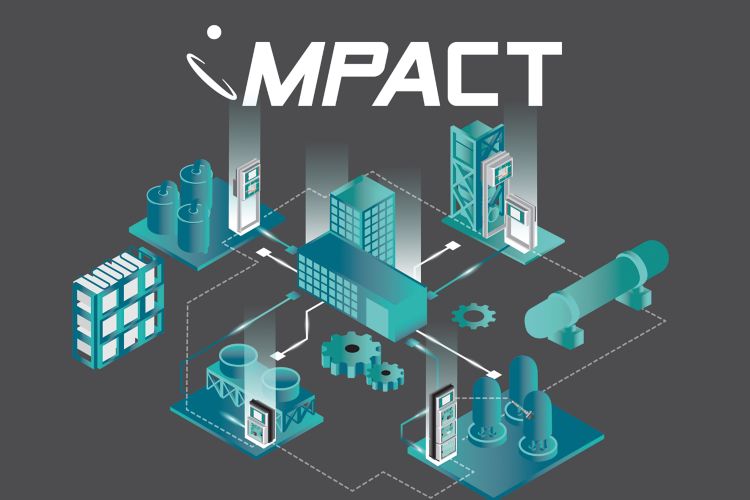 As part of the Metrohm Process Analytics philosophy, the IMPACT software is flexible, modular, and innovative – exactly what you need for optimal monitoring of production processes. This software guarantees secure data management from different analysis techniques, and complete data traceability to avoid loss of data or important events.
Capabilities:
­ «Real-time» data – process data can be collected and displayed on the touchscreen of the process analyzer or to the DCS/PLC/SCADA in a heartbeat. ­
Data integrity – All data is stored in an encrypted database to prevent data tampering ­
Easy transferability – Data from the laboratory or other analyzers ­can easily be transferred thanks to the variety of industrial communication protocols

Easy traceability – Avoid losing data or important events thanks to the automatic generation of log files
Smart programming for process analysis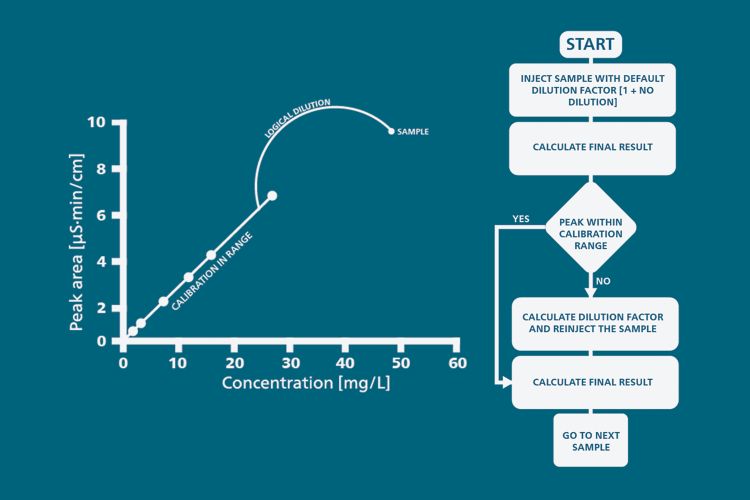 To detect out-of-specification readings, a powerful software is as important as a process analyzer. In all industries, the quality of the final product is key. Thus, a complete picture of your process by real-time monitoring together with guaranteed data traceability is essential to gain the real value of your process.
IMPACT is in complete sync with Metrohm Process Analytics' 2060 platform. Thanks to the smart programming features, the analyzer can be used to perform various predictive tasks to make sure the analyzer and process are optimized continuously. Data is automatically recorded and calculated so on-screen trend graphs and status signals and alarms can instantly alert operators about deviating process conditions and manufacturing mishaps. Other examples of smart programming feature are:
Calculate the optimum dilution factor prior to sample dilution based on the previous results to ensure optimal analysis conditions
Check if reagents are added or measure initial sample values to ensure the analyzer is functioning correctly

Using conditional actions, control standards can be analyzed and used to check the performance of the analyzer and to evaluate and validate the analysis result.
Many more smart programming concepts are applicable depending on the specifications of the process.
Intuitive and reliable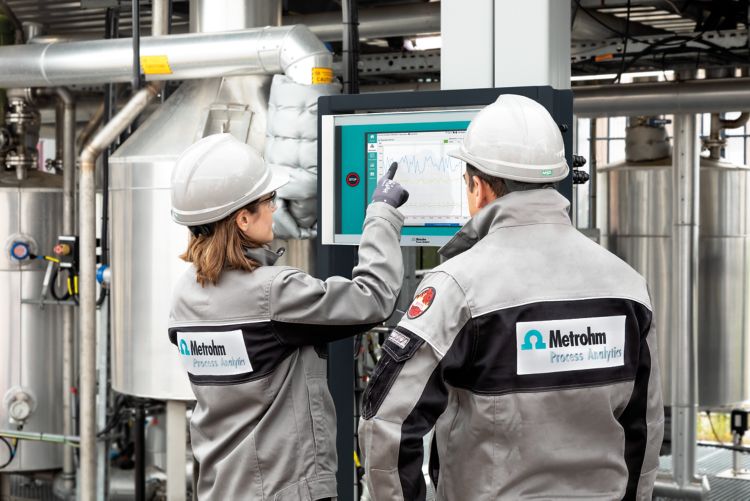 Control is key for any process, and IMPACT makes it possible. The IMPACT software offers customizable operation screens, which can be defined to control connected sampling panels to pre-treat process samples, to display results in different formats, and to perform routine diagnostics. Also, users can fine-tune methods to reflect any changes in the process and set limit conditions and alarms to control the analyzer.
Thanks to the variety of industrial communication protocols, the IMPACT software can transmit valuable results in the same format to any DCS/PLC/SCADA in addition to retrieving process data from remote sensors (e.g., temperature, pH, flow).
Get ahead of the curve ...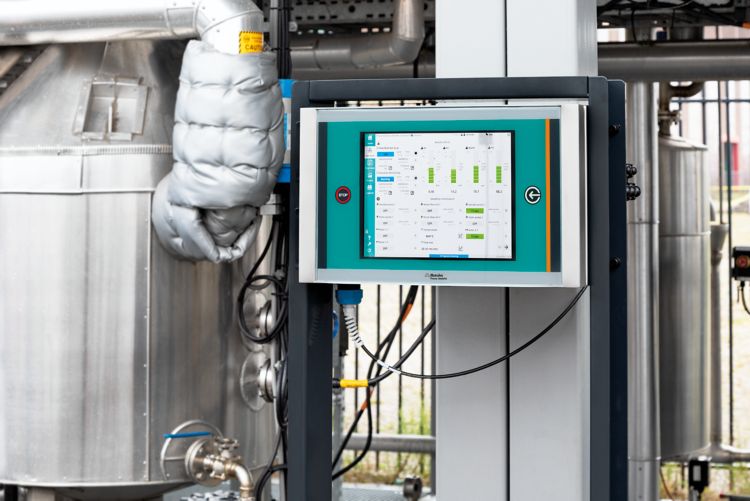 ... and prevent changes before they arise! Not only does IMPACT provide and manage analysis results, but it also provides vital health checks to proactively inform operators of potential issues. Alarms are triggered if hardware faults are detected, or analytical data are trending out of range. For example, alarms can be set up based on user-defined upper and lower limits. So, if a sample result falls outside this window, an alarm is triggered, and the signal is transmitted to the plant PLC/DCS/SCADA for further action.
Secure and accessible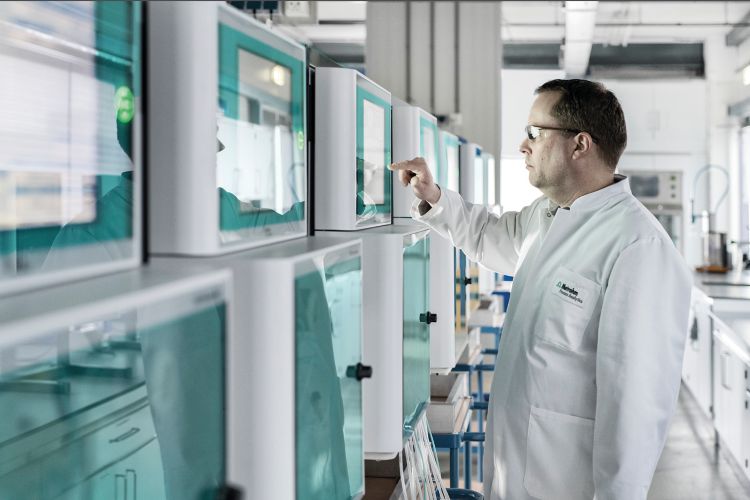 IMPACT offers many features to secure your data allowing you to minimize security risk:
Easy data transfer and collection
In many process environments, measurements with a process analyzer takes place either directly in the medium or via a bypass, that makes routine maintenance and calibrations a challenge due to long distances. IMPACT makes the transfer of all data (from results and models to calibration and maintenance data) from analyzer to analyzer easy thanks to the variety of industrial communication protocols. This translates to less maintenance work and avoidance of downtime, which at the end results in significant cost savings.
Specific user rights can be defined to ensure process security
IMPACT has been designed to store results in an encrypted database. All collected data are fully traceable, preventing data tampering. The power buffer and the controlled shutdown sequence prevent data corruption, and the operating system is embedded, preventing user accessibility as another layer of protection.
Data can be evaluated, and user-specific results can be created
That's not all, IMPACT can have multiple users with different access levels. Each profile is differentiated by having a different degree of detail of what can be displayed in the operation screen and the relative possibility of making changes to the settings or parameters.
Are you interested in learning more about our software solution? Contact us and we'll get in touch.