Our range of rugged, robust pH, conductivity, and oxygen meters are your ideal companion for routine use. You can use the instrument as a battery-powered portable meter or as a benchtop instrument in the laboratory. In addition to measuring conductivity, pH, or both, the instruments also measure Total Dissolved Solids (TDS), salinity, and temperature.
These meters are available as pH meters, conductivity meters, and combined meters.
Large color display and smart features for easy measurement
Two-in-one meters: mobile or benchtop use
Robust instruments with IP67 rating
Measure pH, dissolved oxygen (DO), ORP, conductivity, TDS, salinity, and temperature
Brochure: The new generation of Metrohm meters for pH and conductivity measurement (8.912.5000, PDF, 2.2 MB)
Brochure: Combined measuring instruments for dissolved oxygen, pH, and conductivity (8.914.5000, PDF, 1.1 MB)
Easy, robust, flexible: portable meters for field and laboratory use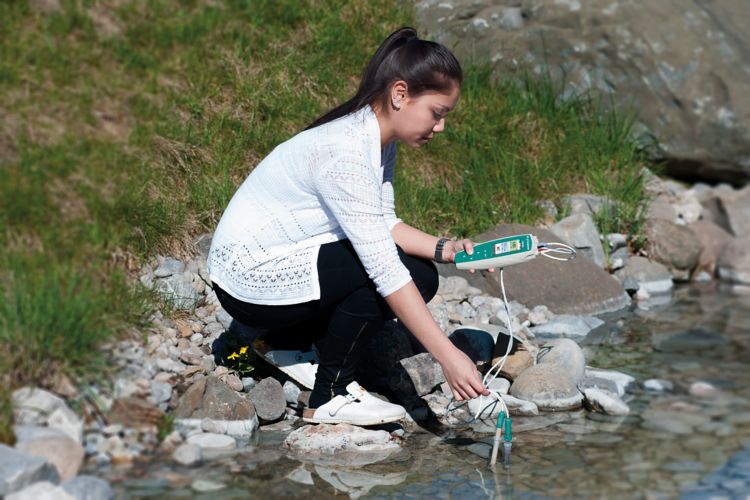 The large color display with backlight on these meters makes reading the result easy in any light conditions. And to make sure that you can always trust your results, the meters are equipped with an integrated sensor quality check. 
With one of our meters, you don't have to worry about harsh environments or long working hours – the meters are dust- and waterproof (IP67-rated), and the powerful lithium battery provides power for hours.
If you use the meter in your lab, no problem! Simply put it on the stand plate, plug it to the power outlet, and use it as a fully functional benchtop meter.
pH, conductivity, and dissolved oxygen measurement as you need it: our product range
We offer dedicated instrument versions for pH, conductivity, and combined measurements. The instruments are available as portable meters, two-in-one instruments for mobile or laboratory use, and with an accessories case.
Overview of models and parameters:
* Only with 854 iConnect and intelligent pH Eletrodes

| | | | | | | |
| --- | --- | --- | --- | --- | --- | --- |
| 912 Conductometer | Cond. | - | - | TDS | Salinity | Temp. |
| 913 pH Meter | - | pH | - | - | - | Temp. |
| 913 pH/DO Meter | - | pH | DO | - | - | Temp. |
| 914 pH/Conductometer | Cond. | pH | - | TDS | Salinity | Temp. |
| 914 pH/DO/Conductometer | Cond. | pH* | DO | TDS | Salinity | Temp. |
Dissolved oxygen (DO) measurement with the O2-Lumitrode
For dissolved oxygen (DO) measurements in water or other liquid samples, you can use one of our dedicated meters with an O2-Lumitrode. Our O2-Lumitrode is the fastest optical sensor for DO measurement on the market.
Do you want to learn more about DO measurement? Check out this free white paper:
Which meter fits your requirements?
Talk to your Metrohm representative and learn about the best solution for your needs!
Determining dissolved oxygen in water: Titration or direct measurement?