Titration: Fundamentals
Watch this webinar to learn about titration methods, titer determination, and sample preparation.
Length: 43 mins
Titration: Troubleshooting
This webinar will provide tips and tricks on troubleshooting in titration.
Length: 36 mins
Titration and NIRS
Titration and near-infrared spectroscopy in perfect synergy. Learn how you can monitor polymer production processes effectively.
Length: 1 hr
Webinars hosted by third parties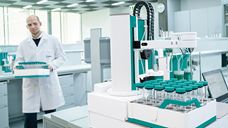 Titration automation
This webinar presents how you can improve reproducibility and efficiency by using automated titration.
This on-demand webinar is brought to you by Separation  Science.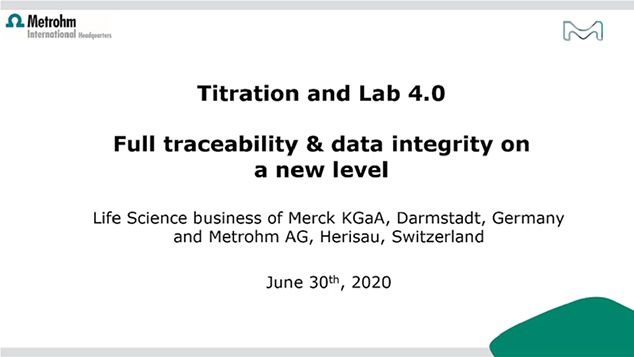 Titration and lab 4.0
In this webinar, Eyla Reuss (Merck KGaA) and Christian Haider (Metrohm AG) introduce you to the advantages of the unique combination of the OMNIS titration platform with the jointly developed 3S titration reagents.

This on-demand webinar is hosted by Separation Science and sponsored by Metrohm and Merck.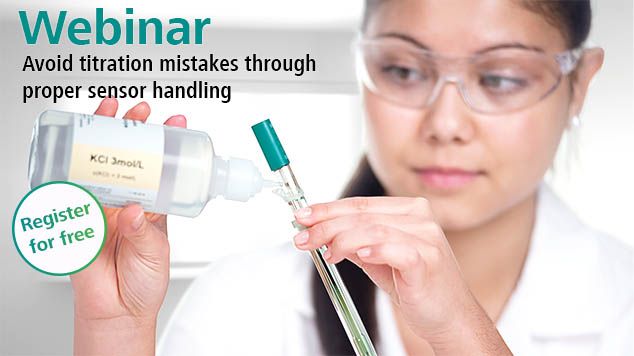 Titration sensor handling
Learn how you can avoid titration mistakes through best-practice sensor handling.
This on-demand webinar is brought to you by Select Science.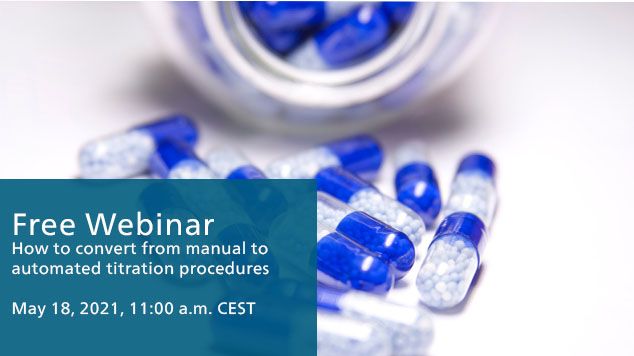 From manual to automated procedures
This on-demand webinar outlines best practice guidelines for modernizing pharmaceutical assay testing. It discusses the risks of manual titrations and how automated titration can help increase efficiency of pharmaceutical assay testing. The webinar is brought to you by Wiley.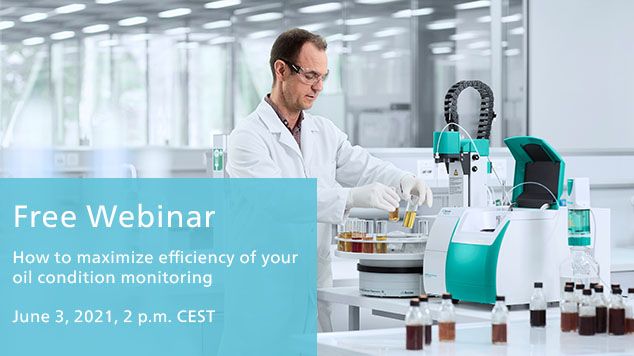 Efficient oil condition monitoring
This on-demand webinar explains how to measure critical chemical and physical oil parameters by titration, near-infrared spectroscopy, and voltammetry. Learn more about their potential to increase efficiency of oil condition monitoring. The webinar is brought to you by Petro online.
Length: 59 mins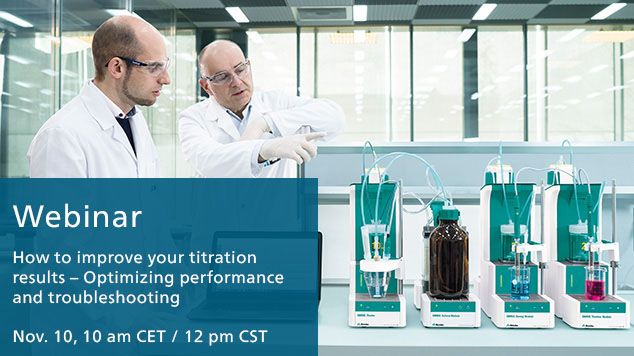 Improving your titration result
Watch this on-demand webinar to learn how to optimize the performance and troubleshooting of your titrations. Learn how to select the right hardware for your titration and how to handle the hardware properly. The correct settings and parameters on a autotitrator as well as how to evaluate endpoints correctly will also be discussed. This webinar is brought to you by SeparationScience.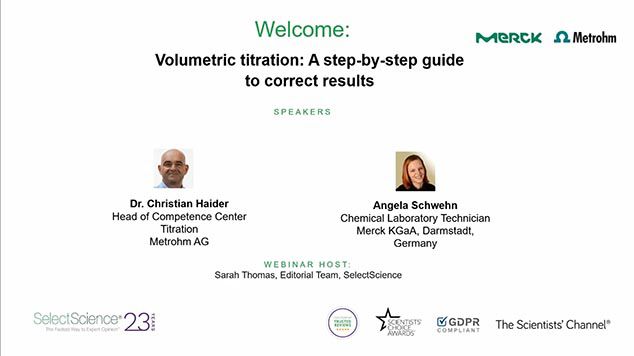 Volumetric titration: a step-by-step guide
This on-demand webinar explores the basics of volumetric titration and presents tips and advice to help you make sure that your titration results are always precise and reproducible. This webinar is brought to you by SelectScience.
Length: 55 mins
Are you looking for help?

Visit the Product Help Center for titration to find FAQs and step-by-step instruction videos regarding Metrohm titrators.

Check out our titrators!

Our range of titrators covers stand-alone as well as fully automated titrators, from economical options to high-end potentiometric titration platforms.