The STRam is a "See-through" portable Raman system with rapid material identification capabilities through a variety of barrier layers and packaging previously impenetrable by Raman spectroscopy. The STRam provides easy identification of materials through a variety of packaging and barrier layers utilizing 785 nm or 1064 nm wavelengths.
Rapid, nondestructive material identification through opaque packaging
Sample and packaging integrity are maintained, limiting operator exposure
Compact, robust design including embedded tablet computer
Compliant with 21 CFR part 11 requirements
See-through sample identification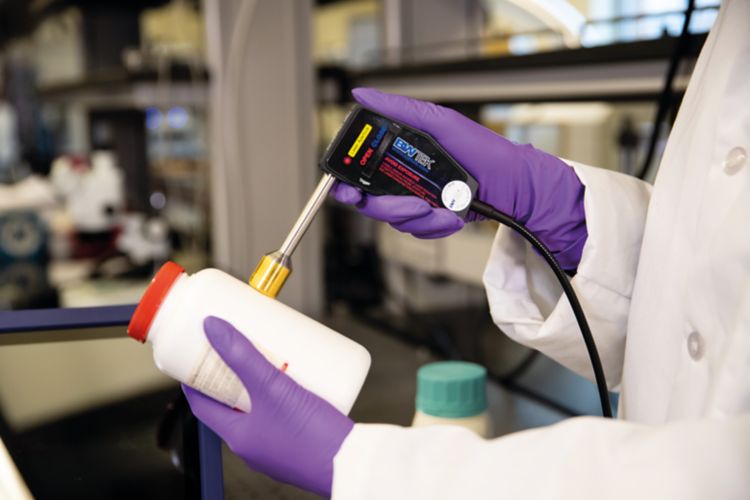 Using our patented STRaman technology, the STRam and STRam-1064 can collect Raman signals generated underneath diffusive top layers to identify material inside visually opaque barriers such as plastic bottles and multi-layer paper sacks while maintaining package and sample integrity.
The system design unites a high-throughput spectrometer, specialized sampling optics, and advanced materials identification algorithms in a compact Raman system.
Minimize exposure to samples and possible contamination by identifying the sample inside its packaging
Measure through white and light-colored plastic containers, paper and fiber sample bags
Create tailored spectral libraries for rapid identification of your samples in their original packaging
Easy measurement with fiber-optic sampling probe with adaptors for optimal spectral data collection
Benefit from a large sampling area, and large sample penetration depth for reliable results
Compact design and easy sampling
The compact STRam system with embedded tablet computer makes it easy to move it and set it up wherever you need it.
Achieve large sampling depth for measurement through packaging using this high-throughput spectrometer system coupled with its specialized sampling probe design. The STRam is operated with 21 CFR part 11-compliant identification software for rapid, secure identification and results reporting. The software has a logical workflow to guide the user through the measurement.
The STRam can be used for incoming material identification, and for package inspection by postal service, and custom agencies to detect potential hazards and controlled materials.
Specifications for STRam
 
STRam
STRam-1064
Part number
BWT-840000676
BWT-840000945
Model
BWS475-785H-ST
BWS475-1064-ST
Laser power at probe, nominal
420 mW
420 mW
Laser power control
0 to 100% (adjustable at 1% increments)
0 to 100% (adjustable at 1% increments)
Spectral range (cm-1)
150 – 2800
100 - 2500
Spectral resolution (cm-1)
< 6.0 @ 912 nm
<10 @ 1296 nm
Detector type
TE-Cooled (-25° C) High Quantum Efficiency CCD
TE-Cooled (-20° C) High Sensitivity InGaAs Array
Integration time
7 ms – 30 min
200 μs – 5 min
Computer interface
USB 2.0
USB 2.0
Trigger
Yes (compatible with B&W Tek probes)
Yes (compatible with B&W Tek probes)
DC power adaptor

Input: 100-240 VAC 50/60Hz.

Output: 12V DC @ 6.6 Amps

Input: 100-240 VAC 50/60Hz.

Output: 12V DC @ 6.6 Amps

Battery
Optional
Optional
Dimensions
15.7 in x 10.2 in x 9.8 in (40 cm x 26 cm x 25 cm)
15.7 in x 10.2 in x 9.8 in (40 cm x 26 cm x 25 cm)
Weight
~19.5lbs (~8.8kg)
~19.5lbs (~8.8kg)
Operating temperature
0°C - 35°C
0°C - 35°C
Humidity
10% - 85%, non-condensing
10% - 85%, non-condensing
Looking for perfect system fit?
Talk to your Metrohm representative and learn about the best solution for your needs!
Sampling

Software
Sampling accessories for solid or liquid samples
STRam combines a high-throughput spectrometer, a high sensitivity, and a cooled low noise detector with our patented sample probe and advanced identification algorithms expanding Raman capabilities to measure samples in a wide assortment of opaque packaging without requiring sample preparation. The STRam probe is designed with a large spot size that gives greater reproducibility of heterogeneous sample measurements.
Our comprehensive package of sampling accessories for measuring solid and liquid samples in different packages provides you the utmost utility right out of the box.

Compliant software
The STRam is a fully integrated system with a tablet computer running 21 CFR part 11 compliant software for through-barrier-layer material identification.
Explore Metrohm Raman analyzers