The PTRam is a compact rack-mountable Raman analyzer designed for product and process development and used in analytical labs and pilot plant settings. Equipped with a 785-nm laser and fiber optic probe, the PTRam offers the benefit of high throughput Raman applicable to most samples.
High-performance, precise, rugged, and reliable spectrometer
Long-lasting, rock-solid laser stability for consistent results
Self-calibrating, self-monitoring with automated system validation to ensure the validity of each measurement for 24/7 real-time monitoring
Single channel fiber-optically coupled sample probe with user-replaceable shaft, customizable for your measurement conditions
Easy, out-of-the box operation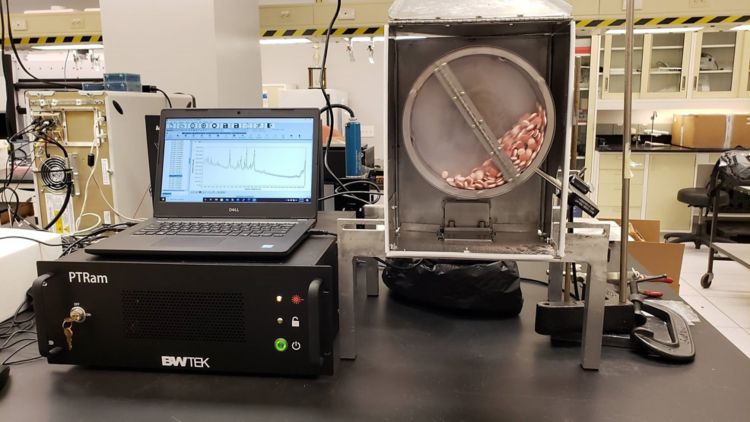 The PTRam is a compact, sensitive, and robust Raman spectrometer that can be placed on the bench or in a rack-mount cart. Just connect the fiber optic probe, plug it in and start your measurements, easily moving it to the process you are developing. With the PTRam you can increase your process understanding and decrease development time with real-time process monitoring.
In addition, the PTRam is a stable system, with high repeatability and reproducibility. It includes internal monitoring of system temperature and Raman shift, ensuring precise measurements throughout your analysis.
Flexible sampling accessories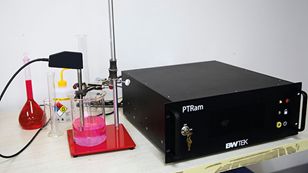 Specifications for PTRam

|   | PTRam |
| --- | --- |
| Part number | BWT-840001200 |
| Laser | 785 nm |
| Spectral range | 150-2800 cm-1 |
| Spectral resolution | ~6 cm-1 @ 912 nm |
| Laser power | Max.  340 mW; power software-controllable from 0 to 100% at 1% increments |
| Weight | 14.5 kg |
| Dimensions | 52 x 48 x 19 cm |
| Operating temperature | 15 ˚C - 30 ˚C |
| Storage temperature | -15 ˚C - 50 ˚C |
| Relative humidity | 10% - 85%, non-condensing |
| Input voltage | 100-240 V AC 47-63 Hz |
| Power consumption | 100 W (Max) |
| Warm-up time | 5 minutes |
| Raman shift calibration | auto-calibration internal reference |
| Standard fiber optic probe shaft  | 304 SS with sealed quartz window for non-immersive use |
| Shaft length | 3" (76.2 mm) |
| Shaft diameter | 0.371" (9.42 mm) |
| Maximum probe operating temperature (shaft and probe body) | 80 °C |
| Fiber length | 1.5 m |
Looking for perfect system fit?
Talk to your Metrohm representative and learn about the best solution for your needs!
Sampling

Software
Sampling options
The PTRam is equipped with the high-throughput fiber optic probe with an interchangeable shaft, model BAC100B-785-HT. In addition to the internal polystyrene system calibration, an ASTM polystyrene validation standard for sample channel performance testing is provided.
Optional accessories to expand the sampling interface possibilities of the PTRam are also available. With these the PTRam can be used in situ in harsh environments, at a distance, in extrusion equipment, or simply in the lab with disposable vials or cuvettes.
Download the compatibility chart for portable Raman products to learn more about sampling
Software options
The PTRam operates with Vision software, delivering a familiar user-experience with full spectroscopic data acquisition and analysis used with the Metrohm NIR spectroscopy systems.
 Users can choose additional software options:
Vision Pharma: fully 21 CFR Part 11-compliant version of Vision
BWSpec software: offering data acquisition control, continuous data collection, spectral processing capabilities and viewing options
BWIQ Quantitative Raman Analysis Software: modeling software, PLS models can be used directly in the Vision real-time analysis mode
Explore Metrohm Raman analyzers