The QTRam portable transmission Raman spectrometer is ideal for rapid and non-destructive quantitative analysis of solid samples. In this transmission Raman system, scattered light penetrates through solid samples, allowing for measurement of the active pharmaceutical ingredients for content uniformity testing of finished products such as tablets and capsules.
USP-recognized transmission Raman for content uniformity testing
High-sensitivity and high-throughput STRaman technology allows for reliable results by transmission Raman spectroscopy
Intuitive workflow makes quantitative modeling and method development easy to follow
No sample preparation, no consumables, and no disposal costs for fast and cost-effective analyses
Portability for easy at-line testing for convenient QC as tablets are produced
Customizable sample holders for optimal sampling of your tablets
Data sheet: QTRam (280001286-E, PDF, 357 KB)
Compact design for convenient at-line testing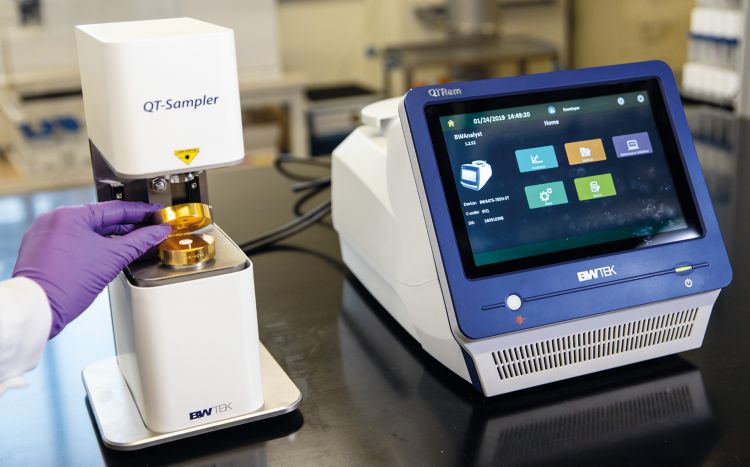 The portable QTRam can be used for at-line quantitation of tablet composition and other properties, reducing the time and associated production delays that come when samples need to be sent to the laboratory for in-process and final product testing.
The portable form factor of the QTRam makes it easy to use for at-line analysis and to move it anywhere you need it.
Multicomponent analysis from a single sample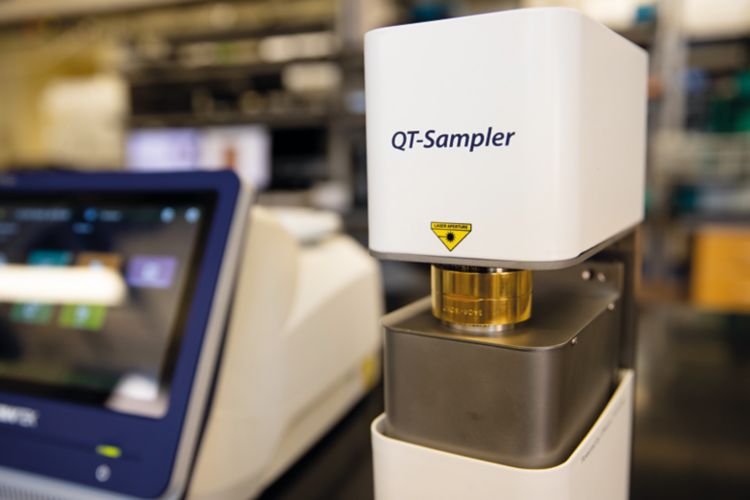 The Raman spectrum is measured on the intact sample and contains information of multiple ingredients. Quantitative sample composition, crystallinity, and polymorphic form can be obtained from a single measurement.
Calibrations can be developed for multicomponent testing from a single Raman spectrum. This non-destructive analysis is done in seconds, on the tablets as they are.
Intuitive, touch-screen software operation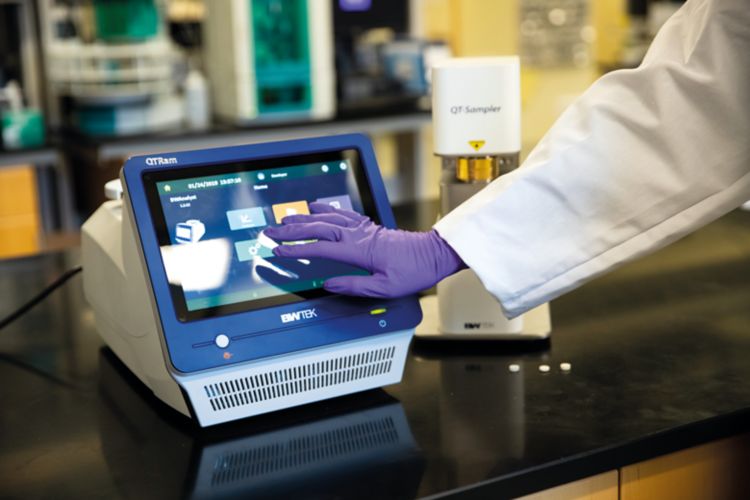 The QTRam can be operated using the touch-friendly BWAnalyst software. This 21 CFR Part 11-compliant software follows a logical workflow to give the quantitative content uniformity results on the inbuilt tablet computer.
Specifications for QTRam
 
QTRam
Model
BWS475-785H-CU
Laser 
785 nm, Class IIIb

Laser power

full power > 420 mW at sample, software-adjustable
Software
21 CFR Part 11-compliant BWAnalyst
System configuration
Transmission Raman

Power adaptor

Input: 100-240 VAC 50/60 Hz

Output: 12 VAC @ 6.6 Amps

Dimensions

Main unit: 15.7 in x 10.2 in x 9.8 in (40 cm x 26 cm x 25 cm)

QT-Sampler: 13.01 in x 6.68 in x 6.97 in (33 cm x 17 cm x 18 cm)

Weight

Main unit: ~19.5 lbs (~8.8 kg)

QT-Sampler: ~17.8 lbs (~8.5 kg)

Operating temperature
0 ˚C - 35 ˚C
Humidity
10% - 85%, non-condensing
Looking for perfect system fit?
Talk to your Metrohm representative and learn about the best solution for your needs!
Sampling

Software
Transmission, see-through, or conventional Raman spectroscopy
The QTRam is built on our versatile STRaman technology platform with high sensitivity and high throughput. Sampling accessories are available to change from the QTRam's transmission Raman to see-through, or conventional Raman spectroscopy. 
Comprehensive software functionalities
BWAnalyst is the touchscreen operated 21 CFR part 11-compliant software with a logical workflow for data acquisition, method building, routine analysis, and reporting.
Once the method is developed and validated, operators can quickly perform quantitative predictions, getting clear results in seconds. Full system performance tests are included and logged. The software has configurable reports, with electronic signature and full audit trail.
BWIQ multivariate analysis software is used to develop the quantitative models used in BWAnalyst for predictions.
Explore Metrohm Raman Analyzers