The GemRam is a lightweight, portable Raman spectrometer dedicated to both the verification of known gemstones as well as the identification of unknown gemstones based on their chemical makeup and crystal structure.
Rapid, nondestructive gem identification
Identification of authentic vs. counterfeit gems in seconds
Comprehensive library of over 300 gemstone types, option to add custom libraries
Portable Raman spectrometer with easy workflow and operation
Easy, nondestructive gem identification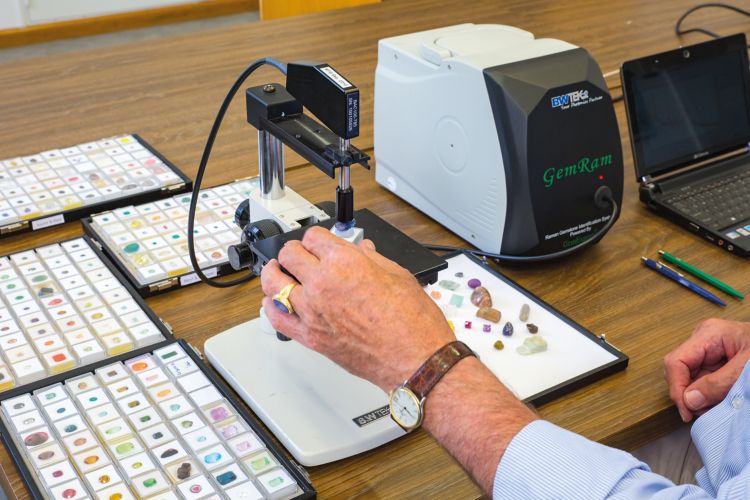 The portable GemRam with the GemID library and software gives rapid identification of your gems and minerals in many work environments from a gemology lab, to a shop or warehouse, to the gem mining. With the simple operation and included library, even nonexperts can quickly identify a real diamond from a fake.
The system is equipped with a fiber optic probe and probe holder with an X-Y-Z positioning stage, for easy sampling. It is all delivered in a wheeled carrying case, making it easy to take your GemRam to where you need to identify your gems. The laser power of the GemRam can be adjusted at 1% increments, thus giving careful control to avoid possible sample damage.
High sensitivity and specificity
Raman spectroscopy with its high chemical specificity is used to determine the chemical composition of gems, minerals, and geological rocks. Your sample's molecular fingerprint is used for identification against the spectral library.
Use the GemRam to identify impurities and research the origin of color in gemstones. You can also identify inclusions, and different polymorphs of the sample directly without sample preparation.
Powerful software with comprehensive spectral library
B&W Tek's exclusive GemID identification software, included with GemRam, is powered by GemExpert's spectral library of more than 450 spectra of 300 different gemstones. This software and library have been developed with Professor H.A. Hänni and Professor Johannes Hunziker, world-class authorities on gemology, and founders of GemExpert GmbH.
The library contains gemstone images and spectra for all classes, including borates, carbonates, halides, native elements, oxides, phosphates, silicates, sulfates, and sulfides. Different varieties of gemstones from different global regions are in the GemExpert library.
Specifications for GemRam

|   | GemRam |
| --- | --- |
| Part number | BWT-840000269 |
| Model number | BWS415-785H-GR |
| Laser excitation (nm) | 785 |
| Laser power at probe (mW, nominal) | 340 |
| Laser power at laser port (mW, nominal) | 455 |
| Spectral range (cm-1) | 150 - 2700 |
| Spectral resolution (cm-1) | < 3.5 at 912 nm |
| Detector | TE-cooled linear CCD Array |
| Detector temperature (deg C) | 10 |
| Integration time | 5 ms - 10 min |
| Computer interface | USB 2.0/1.1 |
| Weight | 10 lbs. (4.6 kg) |
| Dimensions | 6.7 x 13.4 x 9.2 in (17 x 34 x 23.4 cm) |
| Operating temperature | 10°C - 35°C |
| Storage temperature | -10°C - 60°C |
Looking for perfect system fit?
Talk to your Metrohm representative and learn about the best solution for your needs!
Explore Metrohm Raman analyzers